Scooter and Ferret began as web cartoon released in 2001 starring Scooter the dog, a character Scott had been doodling since college. The original concept was to create a web series, and because we apparently lacked imagination, we considered pairing him opposite a cat. We quickly realized our mistake and looked around for a more interesting animal foil, eventually settling on a ferret (I had owned one in college and it seemed like a unique choice). We developed a Flash game to follow up the cartoon and recorded a lot of voice work from the inspirations for the characters, our friends Aseez (Scooter) and Claude (Ferret).
We began the Scooter and Ferret comic strip in 2004 as a frequently updated advertisement for the cartoons, but quickly found that it was taking up so much time, there was no room for animating. We stopped letting that bother us and became a webcomic instead.
The comic strip follows three main characters, Ferret and his friends Scooter and Maridee. Maridee was added to give the strip a feminine presence and she quickly developed a life of her own. Between 2007-2008 we experimented with focusing the comic on her under the name Ask Maridee, but audience feedback compelled us to bring back her costars in 2010.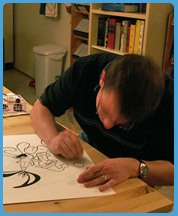 The Artist
Scott Ball is a character designer, sequential artist and illustrator. His work has a distinctive style that utilizes vivid colors and brush inks. He has designed characters for banks, children's websites, churches, medical clinics and animation studios. His client list includes American Airlines, IBM, Microsoft, MeySen Academy, and the Cartoon Network. Scott began drawing for Scooter and Ferret in 2004.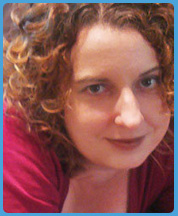 The Writer
Georgia Ball began her career as an animator for the Cartoon Network but quickly moved into post-production and web design. She works as a professional web manager and designer, and her resume includes such notable companies as IBM, Microsoft and Wyndham Vacation Ownership. She is the writer for Scooter and Ferret, as well as the website designer, the marketer and the blogger.